The Alberta International Development Office (AIDO), Simon Fraser University (SFU), and the Management and Economics Society (MES) of CIM are pleased to present the following joint informational event:
Navigating Risk in International Business Transactions
Participants will gain an understanding of the pitfalls of applying traditional risk assessment methods; addressing corruption risks in foreign ventures and finding alternative risk mitigation options; and evaluating and managing reputational risks.
You are invited to join the session in-person in Calgary and Vancouver and online over webinar. Note that we have limited space in our boardrooms both in Calgary and Vancouver so it will be on a first-come, first serve basis. Our presenters in Calgary are Bonita Croft, Cogent Counsel, and Frank McShane, CESG Consulting. In Vancouver, Alan Franklin, Global Business Risk Management, will be presenting in person. The session will be connected via video conferencing and participants from both cities will have an opportunity to engage with and receive feedback from all three speakers.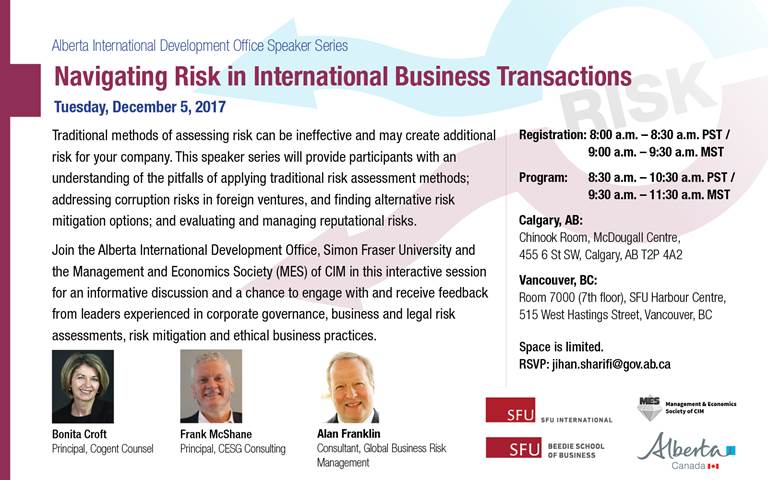 Tuesday, December 5, 2017
8:00am – 10:30am PST
SCHEDULE
8:00 am – Registration
8:30 am – Presentation and Q&A
10:25 am – Final Remarks
SFU Vancouver Campus: Harbour Centre
515 West Hastings Street Vancouver, B.C. Canada V6B 5K3
Room 7000 (situated on the 7th floor)
The seminar is complimentary and seats are limited. Register by Monday, December 4, to secure your place. Please RSVP by emailing Jihan.Sharifi@gov.ab.ca if you are interested in attending. This is an excellent networking opportunity and there is no charge to attend. So we can best service all who are interested and able to join us at this upcoming event please register for it if you are confident that you are indeed able to attend it. Thank you for your interest and understanding.
Thank you to our sponsor, Simon Fraser University's Segal Graduate School of Business, for providing the space!
Keep up to date by checking us out at: www.cimmes.org
Be part of an MES conversation, start a conversation or simply be informed – join us on LinkedIn!
Click HERE to register!