How to Attend: The seminar is complimentary. Please register for it by Tuesday, March 22, to secure your place if you are interested in attending it. RSVP via Eventbrite (click HERE).
For its Wednesday, March 23, 2022 meeting, CIM's Management and Economics Society is pleased to welcome:
Hannah Ellix
Associate Partner at McKinsey & Company
Gordon Orlikow
Senior Client Partner in Korn Ferry's Vancouver & Toronto offices
Dorena Quinn
Global VP, People, Iamgold Corporation
who will deliver an online presentation on:
What Will It Take To Keep Women in Mining and Create a Truly Diverse and Inclusive Industry?
Abstract: Women are underrepresented at all levels within mining companies, and account for less than 17% of the mining workforce globally. But we know that teams that are diverse are measurably more productive, and tend to have better safety records. Diversity promotes creativity and strategic resilience, and mining companies will need both if they are to be successful in meeting the broadening challenges facing the industry today, from digital and analytics disruption to sustainability and decarbonization. So – what are we to do? This panel will explore ideas from the mining industry and beyond, not only to attract more women into the sector, but also to make sure that once hired, women stay, advance professionally, and bring the best of themselves to the companies in which they work.
About our presenters: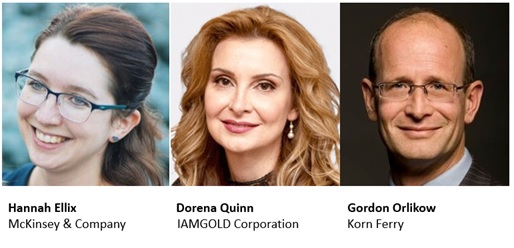 BIO: Hannah Ellix is an Associate Partner in McKinsey & Company's mining and metals practice. Her focus is typically on major transformations bridging operations, maintenance, and procurement, and has run projects on these themes spanning 18 mining sites and metals plants over the last decade. Hannah is a leader in McKinsey's Asset Productivity service line, specializing in frontline maintenance execution excellence. She co-led McKinsey's research in 2021 on Women in Mining and has been a thought-partner to several major mining companies over the last several years on how to better support women in their ranks. Hannah has sat on the board of two educational non-profits. She studied at the University of Edinburgh, and lives in Toronto.
BIO: Gordon Orlikow is a Senior Client Partner in Korn Ferry's Vancouver and Toronto offices where he facilitates the Canadian Board Practice. Mr. Orlikow has conducted numerous board and executive search assignments for public and private companies notably in clean tech, natural resources, infrastructure, and manufacturing. In recent years, his practice has evolved to include a wide variety of sustainability related assignments. Mr. Orlikow began his career with Cargill and subsequently served as a human resources executive in leading companies across Canada. He holds two master's degrees – economics and public administration. Mr. Orlikow served ten years as President of Athletics Canada and continues to play a lead role on the nominating committees of both the Canadian Olympic Committee and World Athletics.
BIO: Dorena Quinn is the Global VP, People, at Iamgold Corporation and is responsible for the architecture, implementation, and oversight of global human capital processes, programs, and leadership. She applies more than 20 years of strategic and operational leadership experience and skills in mining, broadcast measurement, technology, and financial services for national and international companies. Dorena is Chair of the MiHR anti-harassment committee Safe Workplaces for All and council member for DEI at MiHR. She holds a master's degree from York University and an Undergraduate degree from UofT, as well as HRMC certification from Humber College and numerous coaching, leadership, and training certificates. Dorena is an avid member of many women's groups promoting diversity and inclusion of women in business.
Please join us!
Wednesday, March 23, 2022, at 3:30pm EST (12:30pm PST)
How to Attend: The seminar is complimentary. Please register for it by Tuesday, March 22, to secure your place if you are interested in attending it. RSVP via Eventbrite (click HERE).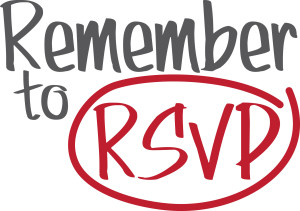 Keep up to date by checking us out at: www.cimmes.org
Be part of an MES conversation, start a conversation or simply be informed – join us on LinkedIn!
Click HERE to register!